If you wish to make a donation by credit card, click on the link below corresponding to the currency in which you want to make your donation. Once you are on the page of PayPal, choose the language of your choice at the top right side of the screen.
If you prefer to make your donation by check or money order or any other means of payment, you can send it by mail to our postal address.
Postal Address
THE FLAME OF LOVE OF THE IMMACULATE HEART OF MARY MOVEMENT
P.O. box 21111 Postal Station Jacques-Cartier
Longueuil (Quebec) J4J 5J4
Canada
| | | |
| --- | --- | --- |
| Donations in Canadian Dollars | Donations in U.S. Dollars | Donations in Euro |
| | | |
The Mission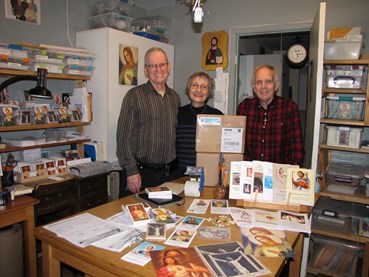 Our mission as a Flame of Love Movement and our raison d'être is to answer the burning desire of the Blessed Virgin Mary to make her Flame of Love known everywhere in the world, until the end of the earth!
By the grace of God and with your help, we can continue to provide for the growing requests that we receive for the propagation of the Flame of Love, such an important grace for our time. We believe that it is extremely important to continue our work and our mission and to make sure that the message of the Flame of Love is known and reaches the greatest number.
First of all, we ask for your prayers. We trust in the power of prayer! We understand that not everyone can offer a financial aid. We humbly ask you to pray for us. And for those of you who can help financially, we humbly ask you to consider prayerfully what you can offer. Your gift will provide us the essential resources to continue our work at the service of the Lord and the Blessed Virgin. All donations are welcome and deeply appreciated. We appreciate your prayers considerably, and we also know that any monetary gift is really given from the heart and we cannot thank you enough for your prayers and your support. We carry all our donors in our prayers!